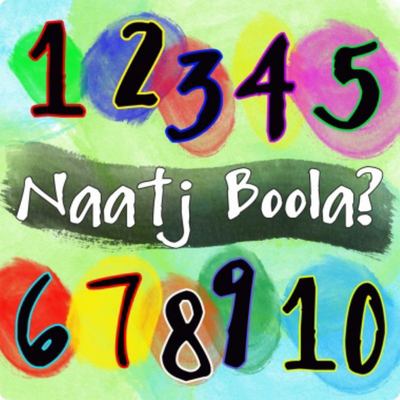 Naatj Boola Numbers
by Shantaila Blurton (Illustrator); Lachauntae Eades (Illustrator); Isabella Tucker (Illustrator); Brandon Hill (Illustrator); Maree Klesch (Other Direction by); LeeAnne Mahaffey (Designed by); William Hammond (Illustrator); Keanee Hill (Illustrator); Kade Loo (Illustrator); Ernie Drage (Illustrator); Shania Bennell (Illustrator); Gemma Hill (Illustrator); Delarney Bell (Illustrator); Latarah Little (Illustrator)
$8.00
AUD
Category: Noongar Books
A brightly coloured, early childhood level book illustrating numbers 1-10, with illustrations by students at Djidi Djidi school in Bunbury, Western Australia.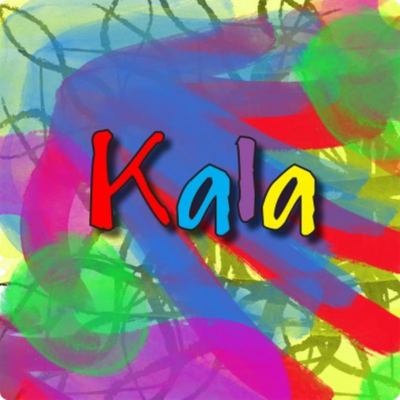 Kala Colours
by Rosezanna Jetta (Illustrator); Maree Klesch (Other Direction by); LeeAnne Mahaf (Designed by); Marshall Ryder (Illustrator); Kade Loo (Illustrator); Troy Bennell (Illustrator); Makayla Fearon (Illustrator); Amanda Rile (Illustrator); Shakira Bald (Illustrator); Brayden Hill (Illustrator); Ernie Drage (Illustrator)
$8.00
AUD
Category: Noongar Books
A bright book illustrating eleven colours with illustrations by students at Djidi Djidi school in Bunbury, Western Australia.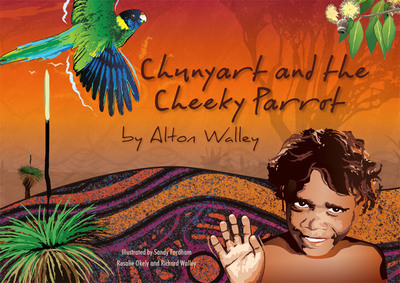 Chunyart and the Cheeky Parrot
by Alton Walley; Rebecca Maddern (Editor); Sandy Fordham (Illustrator); Richard Walley (Drawings by); Botanic Gardens and Parks Authority (Produced by)
$19.95
AUD
Category: Picture Books
Day Break
by McQuire, Amy with illustrations by Matt Chun
$24.99
AUD
Category: Picture Books
Day Break is the story of a family making their way back to Country on January 26. We see the strength they draw from being together, and from sharing stories as they move through a shifting landscape. The story refocuses the narratives around 'Australia Day' on Indigenous survival and resistance, and i n doing so honours the past while looking to the future. Confronting yet truthful, painful yet full of hope, Day Break is a crucial story that will open up a conversation on truth-telling for the next generation. ...Show more
$24.99
AUD
Category: Picture Books
Briggs is a much-loved hip-hop artist, screenwriter and producer, working on shows such as Matt Groening's Disenchantment and The Weekly with Charlie Pickering. Briggs won 'Film Clip of the Year' and was shortlisted for 'Artist of the Year' at the 2019 National Indigenous Music Awards. ·Kate Moon is a celebrated artist, mainly in animation Rachael Sarra is an emerging Indigenous artist from Brisbane Fresh, contemporary illustration and design – signifying a new chapter in children's Indigenous publishing.   ...Show more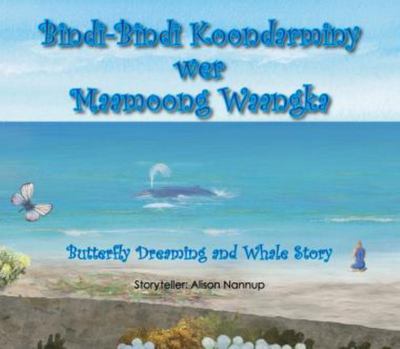 $15.00
AUD
Category: Noongar Books
This beautifully illustrated book tells two important stories about spirit children and how they are tied to the unique Noongar totemic system. The stories help us to understand how Noongar land, plants and animals are interwoven. They are about caring for each other and looking after Noongar spirituali ty, the matrilineal totemic system and the responsibilities of Noongar culture. ...Show more
$24.99
AUD
Category: Childrens Reference | Reading Level: Eve Pownall Award
Bruce Pascoe has collected a swathe of literary awards for Dark Emu and now he has brought together the research and compelling first person accounts in a book for younger readers. Using the accounts of early European explorers, colonists and farmers, Bruce Pascoe compellingly argues for a reconsiderati on of the hunter-gatherer label for pre-colonial Aboriginal Australians. He allows the reader to see Australia as it was before Europeans arrived — a land of cultivated farming areas, productive fisheries, permanent homes, and an understanding of the environment and its natural resources that supported thriving villages across the continent. Young Dark Emu — A Truer History asks young readers to consider a different version of Australia's history pre-European colonisation. ...Show more
$19.99
AUD
Category: Picture Books
What colourful birds are in our backyards? From laughing kookaburras and prancing mudlarks to dancing willy wagtails and hungry galahs, this picture book is a vibrant adventure discovering the native birds around us.
$9.99
AUD
Category: Baby Books | Series: Young Art Ser.
This delightful book for Early Childhood will mesmerise young children and older readers. The black linework and colourful wash backgrounds work beautifully with the lyrical text. Together they introduce extraordinary creatures and birds that we can discover and observe around our Australian coastline. 'Dancing jellyfish', 'scuttling crabs', 'beautiful shells', 'tangled seaweed' and a 'soaring kite' evoke the wonder of our beaches and the treasures to be found. ...Show more
Bindi
by Kirli Saunders; Dub Leffler (Illustrator)
$16.99
AUD
Category: Middle Readers
Winner of the Daisy Utemorrah Award Age range 8 to 12 New year new class new teachers      Mr Milburn      Mrs Szonyi (Zur-Knee) new shoes and shirts same old bottles green and gold... Meet 11-year-old Bindi. She's not really into maths but LOVES art class and playing hockey. Her absolute FAVOURITE thin g is adventuring outside with friends or her horse, Nell. A new year starts like normal — school, family, hockey, dancing. But this year hasn't gone to plan! There's a big art assignment, a drought, a broken wrist AND the biggest bushfires her town has ever seen! Bindi is a verse novel for mid-upper primary students. Written 'for those who plant trees', Bindi explores climate, bush fires, and healing. Written from the point of view of 11-year-old, Bindi and her friends on Gundungurra Country. ...Show more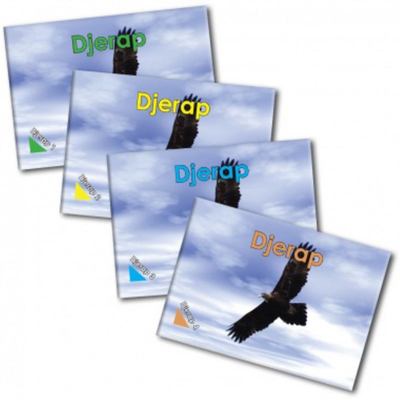 Djerap - Bird Readers
by Denise Smith-Ali; Maree Klesch (Other, Photographer); Karl Brand (Designed by); Lois Spehn-Jackson (Translator); Brooke Ottley (Photographer)
$40.00
AUD
Category: Noongar Books
One of a set of 4 readers for early childhood in Noongar language with an accompanying audio CD. The readers come in varying levels of difficulty and have a bird theme.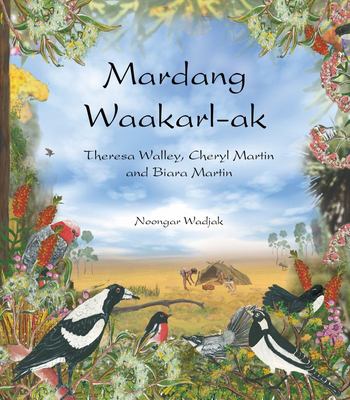 Mardang Waakarl-Ak The Journey of the Rainbow Serpent
by Theresa Walley (Illustrator, As told by); Jacinda Brown (Designed by); Cheryl Martin (Illustrator, Artist); Biara Martin (Illustrator); Karl Brand (Designed by, Illustrator); Lois Spehn-Jackson (Translator); Maree Klesch (Editor-In-Chief, Produced by); Karen Manton (Editor)
$15.00
AUD
Category: Noongar Books
This book contains six Wadjak stories composed by Theresa Walley and illustrated by herself, her daughter Cheryl Martin and granddaughter Biara Martin. Yok Waakarl wer Yondok - Rainbow Serpent and Crocodile, tells of the creation of the rivers, lakes and waterholes is Wadjak country. It is a story of ro mance and courage as the mother Rainbow Serpent fights the crocodile from the north to protect Noongar Country. Many Noongar place names are included in this story as we travel with the Waakarl on her journey through Wadjak country. JOONDIA JILI JILI was a beautiful woman who tried to protect children from the evil magic man. Joondia Jili Jili threw the children into the sky to protect them and they transformed into the beautiful milky-way. Noompat wer Karda - The Numbat and The Racehorse Goanna were two friends; well that was before they wanted to dress-up and show off their teenage colours. This story teaches us about friendship, loyalty and those that have true talent. Pinjarra Waakarl is the protector of children and carer of Noongar people in the Murray River district, however this Waakarl is not so kind to those who want to disturb the tranquility and harmony of the Murray. Danakat is the tragic story of how seven sisters lost their lives while searching for their father. The story tells of a family's love and devotion to each other and how they stayed together for eternity. Koodjal Nop is a tale of what can happen when disobedient boys don't obey their elders. ...Show more