$19.99
AUD
Category: SFF Sci-Fi / Fantasy | Series: Rivers of London | Reading Level: near fine
Peter Grant was just a probationary constable in the Metropolitan Police Service when one night, in pursuance of a murder inquiry, he tried to take a witness statement from someone who was dead but disturbingly voluble, thus bringing him to the attention of Inspector Nightingale, the last wizard in Engl and. Now Peter is a Detective Constable and a trainee wizard, the first apprentice in fifty years and his world has become somewhat more complicated: nests of vampires in Purley, negotiating a truce between the warring god and goddess of the Thames, digging up graves in Covent Garden and there's something festering at the heart of London, a malicious vengeful spirit that takes ordinary Londoners and twists them into grotesque mannequins to act out its drama of violence and despair. The spirit of riot and rebellion has awakened in the city and it falls to Peter to bring order out of chaos - or die trying. ...Show more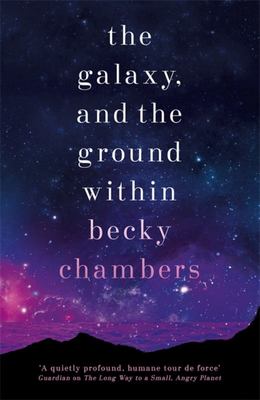 $32.99
AUD
Category: SFF Sci-Fi / Fantasy | Series: Wayfarers Ser.
Sunday Times bestselling author Becky Chambers returns to the Galactic Commons in the final installment in her award-winning and critically acclaimed Wayfarers series. With no water, no air, and no native life, the planet Gora is unremarkable. The only thing it has going for it is a chance proximity to more popular worlds, making it a decent stopover for ships traveling between the wormholes that keep the Galactic Commons connected. If deep space is a highway, Gora is just your average truck stop. One of the many establishments present is the Five-Hop One-Stop, a place where long-haul spacers can stretch their legs (if they have legs, that is), and pick up fuel, transit permits, and assorted supplies. The Five-Hop is run by an enterprising alien and her occasionally helpful child, who both work hard to provide a little piece of home to everyone passing through. When a freak technological failure halts traffic to and from Gora, three strangers are thrown together at the Five-Hop. Grounded, and with nothing to do but wait, the trio - an exiled artist with an appointment to keep, a cargo runner at a personal crossroads, and a mysterious individual doing her best to help those on the fringes - are compelled to confront where they've been, where they might go, and what they might be to each other. PRAISE FOR THE WAYFARERS 'Becky Chambers is a wonder, and I feel better for having her books in my life' JOHN CONNOLLY 'In a word, brilliant' ANDREW CALDECOTT 'A quietly profound, humane tour de force' GUARDIAN 'Chambers is simply an exceptional talent'TOR.COM 'Becky Chambers takes space opera in a whole new and unexpected direction' BEN AARONOVITCH ...Show more
$32.99
AUD
Category: SFF Sci-Fi / Fantasy | Series: Stormlight Archive Ser.
The Stormlight Archive saga continues inRhythm of War, the eagerly awaited sequel to Brandon Sanderson's #1New York Times bestsellingOathbringer, from an epic fantasy writer at the top of his game. After forming a coalition of human resistance against the enemy invasion, Dalinar Kholin and his Knights R adiant have spent a year fighting a protracted, brutal war. Neither side has gained an advantage. Now, as new technological discoveries begin to change the face of the war, the enemy prepares a bold and dangerous operation. The arms race that follows will challenge the very core of the Radiant ideals, and potentially reveal the secrets of the ancient tower that was once the heart of their strength.   ...Show more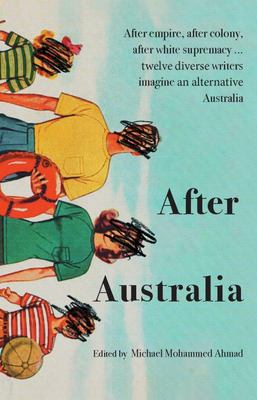 After Australia
by Michael Mohammed Ahmad (Editor)
$24.99
AUD
Category: SFF Sci-Fi / Fantasy | Series: edited Michael Mohammed Ahmad
Climate catastrophe, police brutality, white genocide, totalitarian rule and the erasure of black history provide the backdrop for stories of love, courage and hope. In this unflinching new anthology, eleven of Australia's most daring Indigenous writers and writers of colour provide a glimpse of Austral ia as we head toward the year 2050. Featuring Ambelin Kwaymullina, Claire G. Coleman, Omar Sakr, Future D. Fidel, Karen Wyld, Khalid Warsame, Kaya Lattimore, Sarah Ross, Zoya Patel, Michelle Law and Hannah Donnelly. Edited by Michael Mohammed Ahmad. Original concept by Lena Nahlous. Published by Affirm Press in partnership with Diversity Arts Australia and Sweatshop Literacy Movement. ...Show more
$19.99
AUD
Category: SFF Sci-Fi / Fantasy | Series: Wayfarers | Reading Level: very good
SHORTLISTED FOR THE BAILEY'S WOMEN'S PRIZE FOR FICTION 'A quietly profound, humane tour de force' Guardian The beloved debut novel that will restore your faith in humanity #SmallAngryPlanet When Rosemary Harper joins the crew of the Wayfarer, she isn't expecting much. The ship, which has seen better day s, offers her everything she could possibly want: a small, quiet spot to call home for a while, adventure in far-off corners of the galaxy, and distance from her troubled past. But Rosemary gets more than she bargained for with the Wayfarer. The crew is a mishmash of species and personalities, from Sissix, the friendly reptillian pilot, to Kizzy and Jenks, the constantly sparring engineers who keep the ship running. Life on board is chaotic, but more or less peaceful - exactly what Rosemary wants. Until the crew are offered the job of a lifetime: the chance to build a hyperspace tunnel to a distant planet. They'll earn enough money to live comfortably for years... if they survive the long trip through war-torn interstellar space without endangering any of the fragile alliances that keep the galaxy peaceful. But Rosemary isn't the only person on board with secrets to hide, and the crew will soon discover that space may be vast, but spaceships are very small indeed. PRAISE FOR THE WAYFARERS 'Never less than deeply involving' DAILY MAIL 'Explores the quieter side of sci-fi while still wowing us with daring leaps of imagination' iBOOKS 'So much fun to read' HEAT 'Chambers is simply an exceptional talent, quietly and beautifully redefining the space opera' TOR.COM 'The most fun that I've had with a novel in a long, long time' iO9 ...Show more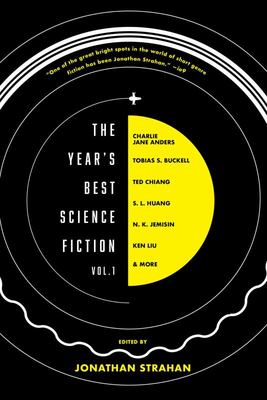 $32.99
AUD
Category: SFF Sci-Fi / Fantasy
A must-have collection of the best short science fiction and speculative fiction of 2019, showcasing brilliant talent and examining the cultural moment we live in, compiled by award-winning editor Jonathan Strahan.   With short works from some of the most lauded science fiction authors, as well as ri sing stars, this collection displays the top talent and the cutting-edge cultural moments that affect our lives, dreams, and stories. Authors include past award-winners Rebecca Roanhorse, Ken Liu, Carmen Maria Machado, Aliette de Boddard, Kim Stanley Robinson, Yoon Ha Lee, and Ted Chiang.   An assemblage of future classics, this anthology is a must-read for anyone who enjoys the vast and exciting world of science fiction. ...Show more
$26.99
AUD
Category: SFF Sci-Fi / Fantasy
Ghost hunter, fox whisperer, troublemaker. It is the summer of 2013 and Abigail Kamara has been left to her own devices. This might, by those who know her, be considered a mistake. While her cousin, police constable and apprentice wizard Peter Grant, is off in the sticks, chasing unicorns, Abigail is c hasing her own mystery. Teenagers around Hampstead Heath have been going missing but before the police can get fully engaged, the teens return home - unharmed but vague about where they've been. Aided only by her new friend, Simon, her knowledge that magic is real and a posse of talking foxes that think they're spies, Abigail must venture into the wilds of Hampstead to discover who is luring the teenagers and more importantly - why? ...Show more
$19.99
AUD
Category: SFF Sci-Fi / Fantasy | Series: Wayfarers
Embark on an exciting, adventurous, and dangerous journey through the galaxy with the motley crew of the spaceship Wayfarer in this fun and heart-warming space opera-the sequel to the acclaimed The Long Way to a Small, Angry Planet.Lovelace was once merely a ship's artificial intelligence. When she wake s up in a new body, following a total system shut-down and reboot, she has no memory of what came before. As Lovelace learns to negotiate the universe and discover who she is, she makes friends with Pepper, an excitable engineer, who's determined to help her learn and grow.Together, Pepper and Lovey will discover that no matter how vast space is, two people can fill it together. ...Show more
$29.99
AUD
Category: SFF Sci-Fi / Fantasy | Series: A Court of Thorns and Roses
Sarah J. Maas's sexy, richly imagined A Court of Thorns and Roses series continues with the journey of Feyre's fiery sister, Nesta.Nesta Archeron has always been prickly – proud, swift to anger and slow to forgive. And since the war – since being made High Fae against her will – she's struggled to forge t the horrors she endured and find a place for herself within the strange and deadly Night Court. The person who ignites her temper more than any other is Cassian, the battle-scarred, winged warrior who is there at Nesta's every turn. But her temper isn't the only thing Cassian ignites. And when they are forced to train in battle together, sparks become flame. As the threat of war casts its shadow over them once again, Nesta and Cassian must fight monsters from within and without if they are to stand a chance of halting the enemies of their court. But the ultimate risk will be searching for acceptance – and healing – in each other's arms. ...Show more
$29.99
AUD
Category: SFF Sci-Fi / Fantasy
This collection of short stories showcases some of the best work that Australian literature has to offer in this new decade. Featuring work from both emerging and established writers of colour, the stories in Collisions transcend genre and experiment with style. They are necessary reading for everybody with an interest in the future of fiction and our planet. Although many of these visions are dystopic, the quality of their writers is something the future has to look forward to. What does the future hold? Collisions prods at what it means for each author, and while many will come to expect speculative fiction at surface level, the breadth of imagination transcends these boundaries. From an account of a tense dinner party amidst impending signs of climate catastrophe; to a playful fable about a father turning his family backyard into a graveyard; and an irreverent yet thoughtful tale of a gang of activists planning an attack on ASIO drones in a Kyle Sandilands government, these stories are experimental, genre-bending and lucid. Collisions presents a diverse collection of work that have often been ignored or elided in a time where marginalised voices are still unheard. It exists tore-centre the voices of writers of colour and to encourage dynamic narratives, to bring about a more robust literary landscape in Australia' s future. Contributors include- Claire G. Coleman, Elizabeth Flux, Bobuq Sayed, Bryant Apolonio, Mykaela Saunders, and more. ...Show more
$9.99
AUD
Category: SFF Sci-Fi / Fantasy
Published for the very first time in its own volume, Tolkien's remarkable tale about a painter whose obsession with detail prevents him from finishing his great work. Niggle is a painter. Not a very successful one, partly because he has so many other things to do. For some time he has been obsessed with one particular canvas - a curious picture of a tree with a vast landscape stretching out behind it. The painting keeps getting bigger and bigger, but Niggle has a journey to make. In 1939 Tolkien was despairing of ever bringing his great work The Lord of the Rings to a conclusion. One morning he woke up with the story Leaf by Niggle complete in his mind and wrote it down. This poignant story, about an artist on a curious journey, is often seen as an allegory of the writer's own creative process and life. Published to coincide with a new touring stage production of the story, this is the first time the story has been published in its own volume, enabling readers to savour one of Tolkien's most elegant, haunting and least-known short stories. ...Show more
$29.99
AUD
Category: SFF Sci-Fi / Fantasy | Series: The\Bone Season Ser.
Paige Mahoney has eluded death again. Snatched from the jaws of captivity and consigned to a safe house in the Scion Citadel of Paris, she finds herself caught between those factions that seek Scion's downfall and those who would kill to protect the Rephaim's puppet empire. The mysterious Domino Program me has plans for Paige, but she has ambitions of her own in this new citadel. With Arcturus Mesarthim her former enemy at her side, she embarks on an adventure that will lead her from the catacombs of Paris to the glittering hallways of Versailles. Her risks promise high reward- the Parisian underworld could yield the means to escalate her rebellion to outright war. As Scion widens its bounds and the free world trembles in its shadow, Paige must fight her own memories after her ordeal at the hands of Scion. Meanwhile, she strives to understand her bond with Arcturus, which grows stronger by the day. But there are those who know the revolution began with them and could end with them . . . ...Show more